ATTENTION ARTISTS….did you know that we have an artist pricing program? We work with artists at all levels. We love helping artist find the tone they are looking for. If you're interested in knowing what you need to do to qualify for artist/endorsement pricing contact Info@rjsamplification.com
National Touring Artists Pricing: Cost of materials plus 20%
Regional Artist Pricing: Dealer Cost.
Artists.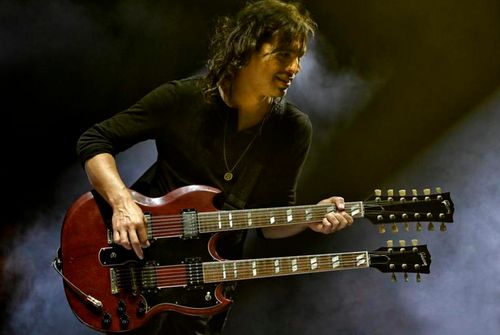 LUIS Carlos MALDONADO
Luis Carlos Maldonado is a Los Angeles based Musician, Singer , Writer, and Performer. 
He is currently a member of the group FOREIGNER. 
In the recent past , Luis served as the lead guitarist of 2 time grammy award winning group, Train. 
He has also worked with artists such as Glenn Hughes, Lisa Marie Presley, Bigelf, John Waite, and Into the Presence. 
Luis began his journey in the music industry at 19 in the Bay area with Mike Varney's Shrapnel records. The legendary guitar based record label allowed him to work with artists such as Michael Schenker, Artension, U.F.O., and Cairo to name a few. 
After relocating to Los Angeles, Luis continued to record and tour internationally and eventually began writing and producing. 
He's been featured in Guitar Player magazine and Vintage Guitar Magazine as well as numerous TV performances. He continues to contribute to artist recordings through writing and arranging. 
Among some of the producers/artists he has worked with include: 
John Goodmanson, Steve LillyWhite, Patrick Leonard, Jim Scott, Linda Perry, Will "iDap" Larsen, 
Butch Walker, Cee-Lo Green and many more…. 
www.facebook.com/luis.carlos.117 
www.instagram.com/luis_x_carlos11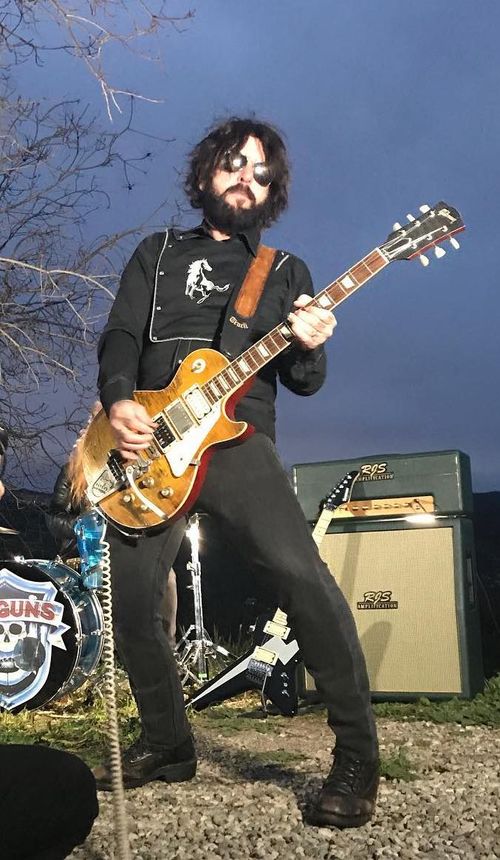 TRACII GUNS 
Tracii Guns is an American musician best known as the founder of glam metal group L.A. Guns, as well as the supergroups Brides of Destruction and Contraband. He was also a founding member of Guns N' Roses. Currently he is ripping across the globe with his band LA GUNS and supporting L.A Gun's latest album "The Missing Peace". Update: Currently on tour with LA GUNS supporting their latest album The Devil You Know. 
https://en.wikipedia.org/wiki/Tracii_Guns
JAKE E' LEE
Jake E Lee of Red Dragon Cartel, Badlands, and Former Ozzy Osbourne Guitarist. Jake uses a RJS 68/100 Superlead,, and a 76/100-X
Jake E. Lee (born February 15, 1957) is an American guitarist signed to Shrapnel Records. He is best known for playing with Ozzy Osbourne between 1983-1987 and later in Badlands with Ray Gillen. He formed the band Red Dragon Cartel in 2013. Their eponymous first album was released in January 2014 and entered at No. 69 on Billboard's Album Charts.[1] He has also recorded solo works in his own name, examples being the instrumental album A Fine Pink Mist (1996) and cover album Retraced (2005). 
SCOTT BRADOKA
Among the most underrated and under-recorded guitarists in America today, Scott Bradoka calls his 2013, 17 track CD collection Never Been Cool. Just that name alone conjures up all kinds of perceived detriments, yet in a concerted effort to bring his name back into the limelight, with Never Been Cool, Bradoka has put together a well-rounded collection of remixed archival tracks from the past fifteen years along with several newly recorded tracks. For guitar buffs who have followed his career over the past decade, you can't really mention the name Scott Bradoka without at least mentioning the name Eric Bazilian, the singer-songwriter who turned rock fusion guitar instrumental advocate when he teamed up with Scott for his 2003 album Create Your Own Reality.
Scott Bradoka uses a RJS 68/50 Small Box Plexi. Scott also uses a Smith Maple top strat I built him back in 1992 if memory serves me.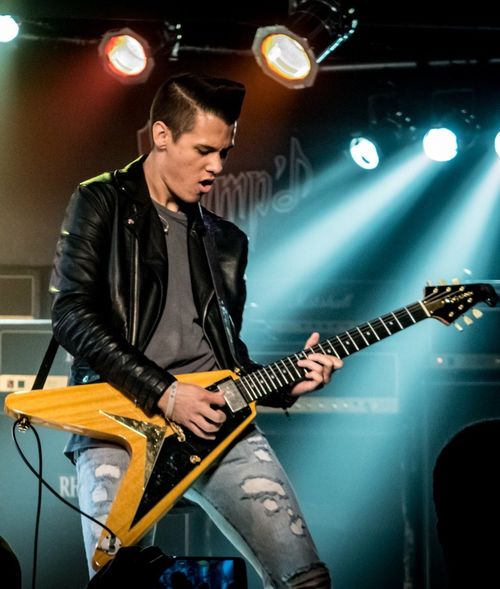 Jacob Stibbie
Jacob started playing guitar at the young age of ten years old. He was inspired by his favorite band KISS to pickup the instrument after seeing them live. He loved the idea of getting on a stage and providing this unbelievable experience for the fans. He wanted to offer the same experience for his friends and family. He then decided to get some lessons, and after a short time, his teacher noticed a hobby could end up becoming a potential career. Jacob started playing with local bands at the age of twelve. He filled in for many groups, playing a wide variety of genres including blues, country, jazz and pop. He started his own band called Stay Tuned with his twin brother (singer) that covered 80's rock music. The band did many shows, and even released an EP of original glam metal music. Stay Tuned had a great run and it was due to the fact that they offered an unforgettable experience that inspired Jacob in the beginning. Jacob then  went on and cofounded the Country band Westward Sons with singer James Rensink in the beginning of 2017. The band got off the ground quickly opening for artists Lee Brice, and Jerrod Niemann. Jacob started doing session work towards the end of 2017 as well. Jacob has worked with some of the industries best including Steel Panther, Reed Robertson (Duck Dynasty), Rudy Sarzo (Ozzy Osbourne/ Quiet Riot) Brian Tichy (Whitesnake, Billy Idol, Ozzy Osbourne) Blas Elias (Slaugter/Trans Siberian Orchestra) Phil Soussan (Ozzy Osbourne, Billy Idol, Vince Neil) Great White, Carmine Rojas (Joe Bonamassa/David Bowie), Greg Douglass (Steve Miller Band), Alvin Taylor (Jimi Hendrix), Harold Brown (War), Ashes (Devil Driver/Static X), and more. Jacob is currently  the Lead Guitarist for NBC's America's Got Talent, a music director at Active Church in Yucaipa, CA, and a session musician in the Los Angeles area. He also has YouTube Channel. He is a proud user of RJS Amplification. 
YouTube: YouTube.com/c/jacobstibbie